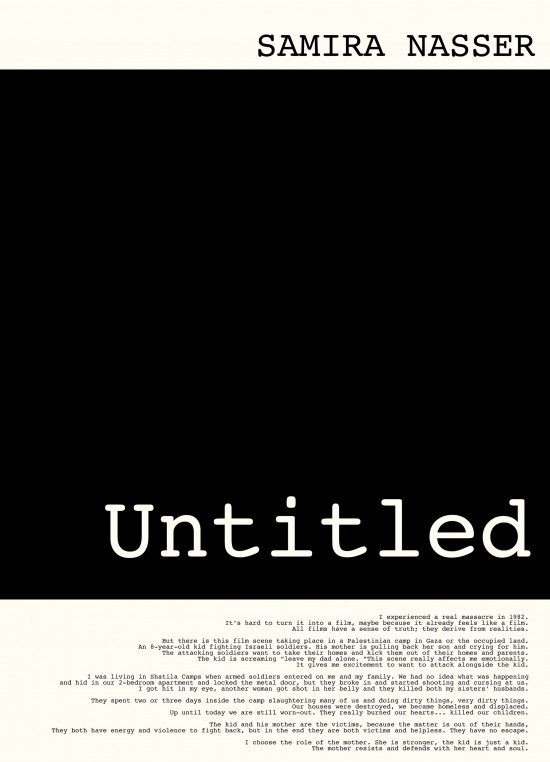 Untitled
By Samira Nasser
I experienced a real massacre in 1982.
It's hard to turn it into a film, maybe because it already feels like a film. All films have a sense of truth; they derive from realities. But there is this film scene taking place in a Palestinian camp in Gaza or the occupied land.
An 8-year-old kid fighting Israeli soldiers. His mother is pulling back her son and crying for him. The attacking soldiers want to take their homes and kick them out of their homes and parents. The kid is screaming "leave my dad alone. "This scene really affects me emotionally.
It gives me excitement to want to attack alongside the kid. 
I was living in Shatila Camps when armed soldiers entered on me and my family. We had no idea what was happening and hid in our 2-bedroom apartment and locked the metal door, but they broke in and started shooting and cursing at us. I got hit in my eye, another woman got shot in her belly and they killed both my sisters' husbands. They spent two or three days inside the camp slaughtering many of us and doing dirty things, very dirty things.
Our houses were destroyed, we became homeless and displaced. Up until today we are still worn-out. They really burned our hearts… killed our children.
The kid and his mother are the victims, because the matter is out of their hands. They both have energy and violence to fight back, but in the end they are both victims and helpless. They have no escape.
I choose the role of the mother. She is stronger, the kid is just a kid. The mother resists and defends with her heart and soul.